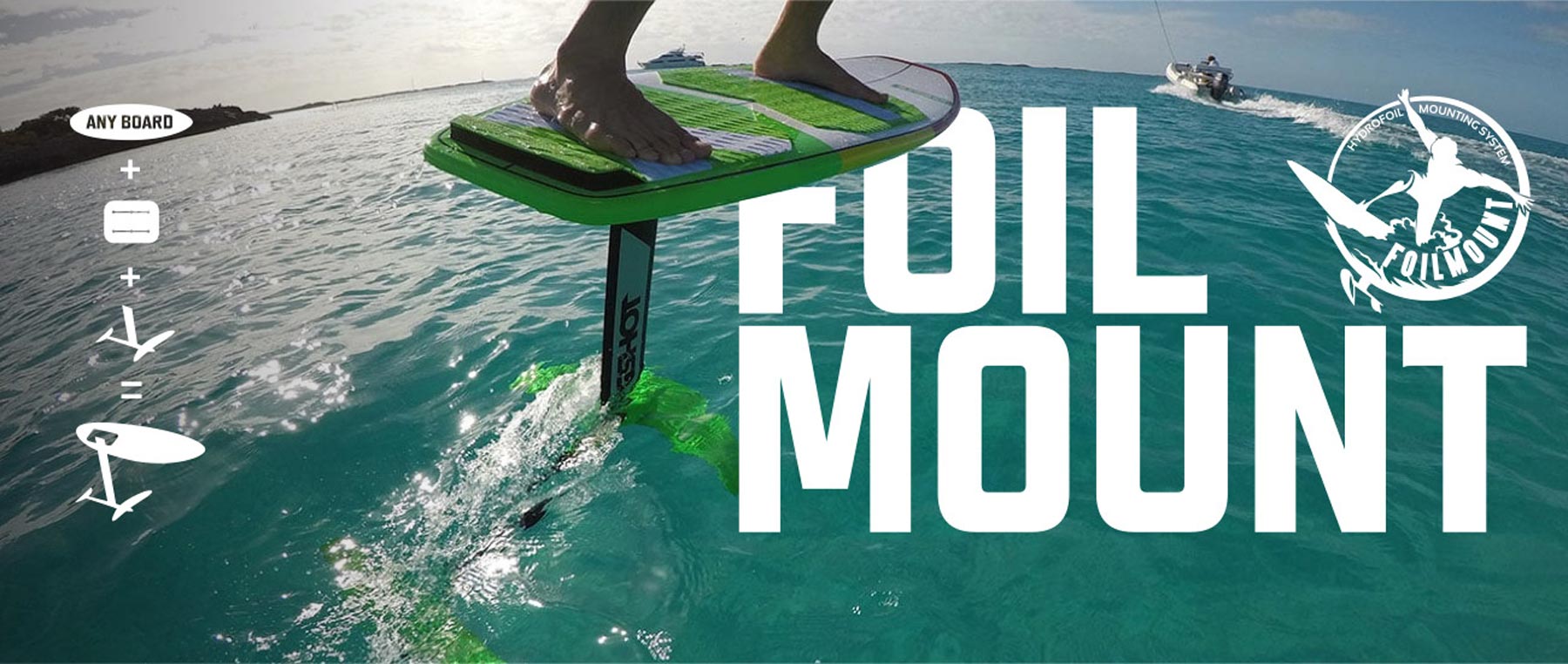 FoilMount is a universal hydrofoil mounting system. Turn ANY board into a Hydrofoil board!
Standard FoilMount

The Standard FoilMount is a incredibly strong and durable hydrofoil track system to convert any surf, SUP, Kite, wake or skimboard into a hydrofoil board. Just stick and ride! The Standard FoilMount can be installed on any flat board surface. Weight: 0.5 kg The 2.0 Standard now includes: Upgraded FoilMount ...

Carbon FoilMount 3.0

Features: -New Carbon Fiber bulletproof construction -CNC milled tracks and edges -Bubble channels in adhesive to decrease bubbles while installing -Flexible edges and center-line to accommodate more board geometry. -New more efficient shape -Lighter design weighs 30% less than FoilMount 2.0 Includes: -FoilMount 3.0 Carbon plate with adhesive back -Installation ...
Foil Mount for Hydrofoils
Take your kiting game to the next level, with the Foil Mount – a universal hydrofoil mounting system that allows you to upgrade any board in your collection with a hydrofoil track. It's easy and effortless to install, and it's guaranteed to give you that height and adrenaline kick you've been craving for so long.
A Universal Fit
The Foil Mount is suitable for any foil that uses an industry-standard 90mm track, so there are very few boards on the market today that won't fit this revolutionary mount.
Easy Installation
But let's take a moment to talk about that effortless installation – start by prepping the area underneath your board with alcohol to ensure that it's free of dust or particles that might interfere with the glue. Using a specially designed 3M adhesive tape, simply attach the Foil Mount to the bottom of your board – it really is as simple as that. Pack up, and let's go – because you're now ready to make waves!
Choose the right Foil Mount
Applying the Foil Mount is one thing, but let's talk about choosing the right one to suit your board. The Standard Foil Mount is ideal for flat surface boards, and fits virtually any board imaginable – no stress, no fuss, no hassle. The Ridge Mount Foil Mount, on the other hand, has a small relief cut along the middle of the mount which is designed to fit boards with a ridge running along the bottom. Remember, even if you're fitting the Ridge Mount Foil Mount, the surface of the board still needs to be fairly flat to accommodate the tape.